Herbal Leys on BBC Radio 4's Farming Today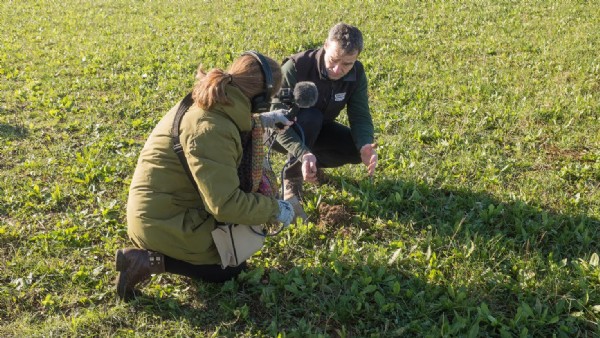 Ian Wilkinson was interviewed on BBC Radio 4's 'Farming Today' programme, discussing the range of benefits created by growing complex or herbal leys. Presenter and producer Beatrice Fenton visited Cotswold Seeds' warehouse in Moreton-in-Marsh to watch seeds being mixed before seeing a field of herbal ley at Honeydale, our research farm.
Ian explained how combining a range of different deep rooting plant species including grasses, legumes and herbs in a seed mixture can provide many benefits for livestock forage in both Organic and conventional farming systems.
These deep rooted leys provide season long forage, especially on dry ground where shallow rooted species die off during the hot summer months. The variety of root size and shape from this mixture of species can have a very positive effect on the soil, aerating it, allowing rainfall to soak in, as well as breaking up layers of compaction further down in the soil profile.
The legumes within the seed mixture fix 'free' atmospheric nitrogen, which helps feed the grasses, reducing the need to buy in artificial fertilisers. These legumes are also generally higher in protein than grass species alone, providing high quality forage for livestock, increasing milk and meat production, again reducing the need to buy in costly artificial concentrates. The deep rooted herb species such as plantain, yarrow, sheep's parsley and burnet are able to mine minerals from the soil, pulling them up from depth and making them available to the grazing animal.
Certain species within these complex mixtures can provide anthelmintic or anti-worming effects in sheep and cattle. Chicory and sainfoin have specific properties that allow them to reduce the worm burden in livestock, leading to healthier animals and reducing the need to use artificial wormers.
A diverse mixture of flowering species are extremely attractive to pollinators and other beneficial insects, providing a wide window of pollen and nectar sources, at a time when pollinator health is firmly in the spotlight.
Ian also gave a presentation to the Organic Producers Conference in Bristol, on how and why farmers are using diverse seed mixtures; using herbal leys to Sort out Your Soil, and as Superfood for Livestock that leaves money in the bank.
Further information on complex mixtures and Herbal Leys on the Cotswold Seeds website: Mix Finder
---
Date Posted: 29th January 2016

Knowledge