Three Years of Soil Farmer of the Year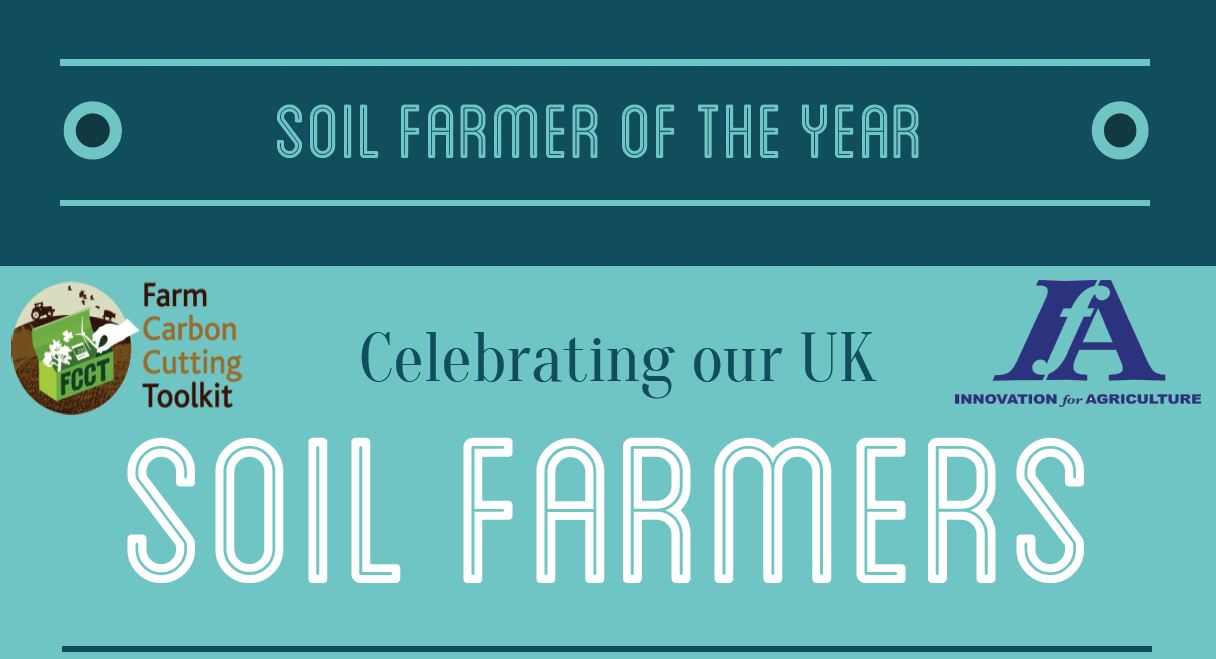 Cotswold Seeds has been proudly sponsoring the UK Soil Farmer of the Year award since it was launched three years ago. The aim of this competition, founded by the Farm Carbon Cutting Toolkit (FCCT) and Innovation for Agriculture, is to celebrate farmers who are managing their soils in a way that increases organic matter to support productive and healthy crops and pasture, which in turn supports a profitable and resilient farming system.
It's totally inline with the work of Cotswold Seeds, as MD Ian Wilkinson explains: 'Soil health underpins every activity on the farm and many of our seed mixtures such as herbal leys, are designed to improve soil structure and fertility. The soil is a vital resource so we're delighted to be supporting an initiative that encourages farmers to give it the respect it deserves.'
The FCCT has published results of the competition, demonstrating a range of positive outcomes in terms of sharing knowledge and promoting good practice.
The competition attracts a broad range of applicants, with farmers of land from 2 - 1600Ha, on a variety of soil types and with a split across the major farm types - mixed, arable, livestock, horticulture. Good practice has been celebrated across the board, including safeguarding soil health and building business performance by assessing soil structure, improved soil resilience and understanding soil biological populations.
Information sharing and learning is also encouraged through farm walks and visits to soil pits held with the top 3 farmers each year, and attracting hundreds of farmers and growers keen to learn more. Topics discussed in depth have included flexible rotations, and evident throughout has been a drive to protect soil as a farmer's most valuable asset, together with the benefits of understanding soils and how they perform.
The inaugural winner, Clive Bailye, is a large scale arable operator and his advice is that, 'the cheapest way to get organic matter is to grow it, it spreads itself for free.'
Last year there were two joint winners. Tim Parton farms 300 hectares near Wolverhampton, which is split between arable crops and 100 acres of grass grown for haylage and he says: 'Roots are invaluable, they will do it all for you. If you work with nature life is so much easier.' Richard Suddes farms at 850 – 1000 feet up in Durham and for him, 'the decision wasn't purely financial. I came to the realisation that there was a need to look after the soil.'
Simon Cowell , Soil Farmer of the Year winner for 2018, farms 400 acres of heavy clay with a large acreage below sea level. Simon has been working on improving his soils for the last 20 years, focussing on building soil health with a combination of no-till, the use of homemade compost and a diverse rotation which grows healthy plants, allowing for a reduction in inputs.
'Farming is such a long term thing, longer than any one person's life,' he says. 'As far as I'm concerned if the soil is healthy and everything is working well, your plants are going to be much more resilient to disease. I've massively lowered my cost base.'
As the winner, Simon was given one of Cotswold Seeds' cover crop, the Retrieve Mixture, containing rape, mustard, fodder radish and fodder rape/kale.
Becky Wilson of the FCCT says: 'We are very grateful to Cotswold Seeds for their generosity in supporting this important competition and we are very proud of it, and of our growing alumni of Soil Farmers who are a network of ambassadors, helping inspire other farmers to engage with practices to reduce greenhouse gas emissions and improve soil health on-farm.'
Applications will soon be open for the 2019 competition. Check the FCCT website for information.
https://www.farmcarbontoolkit.org.uk
---
Date Posted: 14th November 2018

Knowledge